Auslandsstudium / Auslandspraktikum
Lorenzo Spada
Italy // Summer term 2019 // 23 years old (at time of exchange) // Studies foreign languages
– What memories do you think of often?
Even though, Wuppertal is not as big as other cities such as Berlin, Hamburg or Munich, you'll surely meet a real and compact erasmus group. The experiences I had with those people are surely something I'll take with and within me forever!
– What did you like about the university, the IST, Wuppertal or Germany in general?
The structure of the university is really complex and well organized. It gives you the possibility to enter wherever you want and get to your class without going out again, something very useful, especially in the winter season. IST Crew people are the best. You will get a buddy who will always be there for you, but actually everyone of the crew will try her or his best to help you in every circumstance. For real, I owe them! Wuppertal is located in one of the best regions of Germany, easy to reach thanks to a lot of close airports. Furthermore, once you get your Semesterticket, you can travel throughout the whole Bundesland (state) for free! Amazing, isn't it?
– What do you take with you from this time for the future?
I believe erasmus is a brilliant experience. It's a privilege only few people can live. I think I grew up a lot and I gained a lot of experience, academically and not. Something everyone should do!
– Could you improve on your German skills?
I already knew German before my erasmus experience in Wuppertal, but of course, everyone made amazing steps into the German language!
– What do you want to tell people who are thinking about a semester abroad at the University of Wuppertal?
Something I learnt from this experience is to say always 'Yes, let's do this! I'm in!' and just enjoy it! It will be brilliant!
Emma Viviani
Italy // Winter semester 2019/20 // 23 years old (at time of exchange) // Studied Mathematics
– What memories do you think of often?
I thought it would take a year to do what I actually experienced in 6 months, and that's amazing: going around, seeing different approaches to your field of study, partying, having lunch with people you just met, and of course not speaking your native language everyday. I often think of the people, the everyday moments we shared and the Thursday nights at the Kneipe. I never felt alone in the Erasmus group, and everyone left me something special.
– What did you like about the university, the IST, Wuppertal or Germany in general?
Wuppertal is a beautiful city, it has all the amenities you may need, and after a few weeks, I even got used to its rainy weather. Travelling is very easy with the semester ticket, it allows you to move around comfortably. The university for me is very big and exploring it was fun. But my most cherished places are the library where I felt at home and the mensa, a great meeting place. The professors are happy to have international students in their classes and are very helpful. The IST group is something you don't expect to find: they are a very special "guide", you can ask questions about the university and also about tricks for living; they organize trips to areas of interest near Wuppertal, but also fantastic parties and game nights where you can meet many international students but also German people.
– What do you take with you from this time for the future?
The sense of freedom, happiness and my improved self-esteem.
– Could you improve on your German skills?
When I left Italy, I didn't even know how to order a beer in German and I was afraid that the language would be a problem. But it wasn't an obstacle, nobody treated me badly because I didn't know the language. Also, I attended the "German in the evening" course offered by the university and in the end I was able to understand a very easy conversation. Learning a new language by being immersed in it every day is amazing, it is funny and quick!
– What do you want to tell people who are thinking about a semester abroad at the University of Wuppertal?
Start packing because it will be one of the most amazing experiences of your life!
Micaela Palacios
Argentina // 27 years old (at time of exchange)
My name is Micaela and I am from Argentina. In 2019 I went to Wuppertal for six months to study there. I was 27 at that moment and I could go because of a scholarship that my university and Wupertal's Uni gave me. Once there I took a few courses about literature, one about gender violence in Spanish literature and most of the time I studied German. I really enjoyed my time in Wuppertal. Everyone at the University was very kind and open to meeting new people. The IST organized a lot of activities that made easier to know each other with the others exchange students. It was very important to me that experience in Germany. Meeting new people from all different countries is a very rewarding experience and learning. Also living in a place like Wuppertal was wonderful because it's a place surrounded by nature, woods and lakes. Nowadays I always remember going every day to a lake with some friends in summer, and all the shared dinners we enjoyed together in the student residence. An experience like this helps to learn or improve German language, to practice your English and to learn about different cultures too. I recommend everyone to enrol in an exchange experience. Wuppertal is a beautiful place, and I always miss it.
Marine Rosito
France // Winter term 2019/2020 // 20 years old (at time of exchange) // Romance studies & Business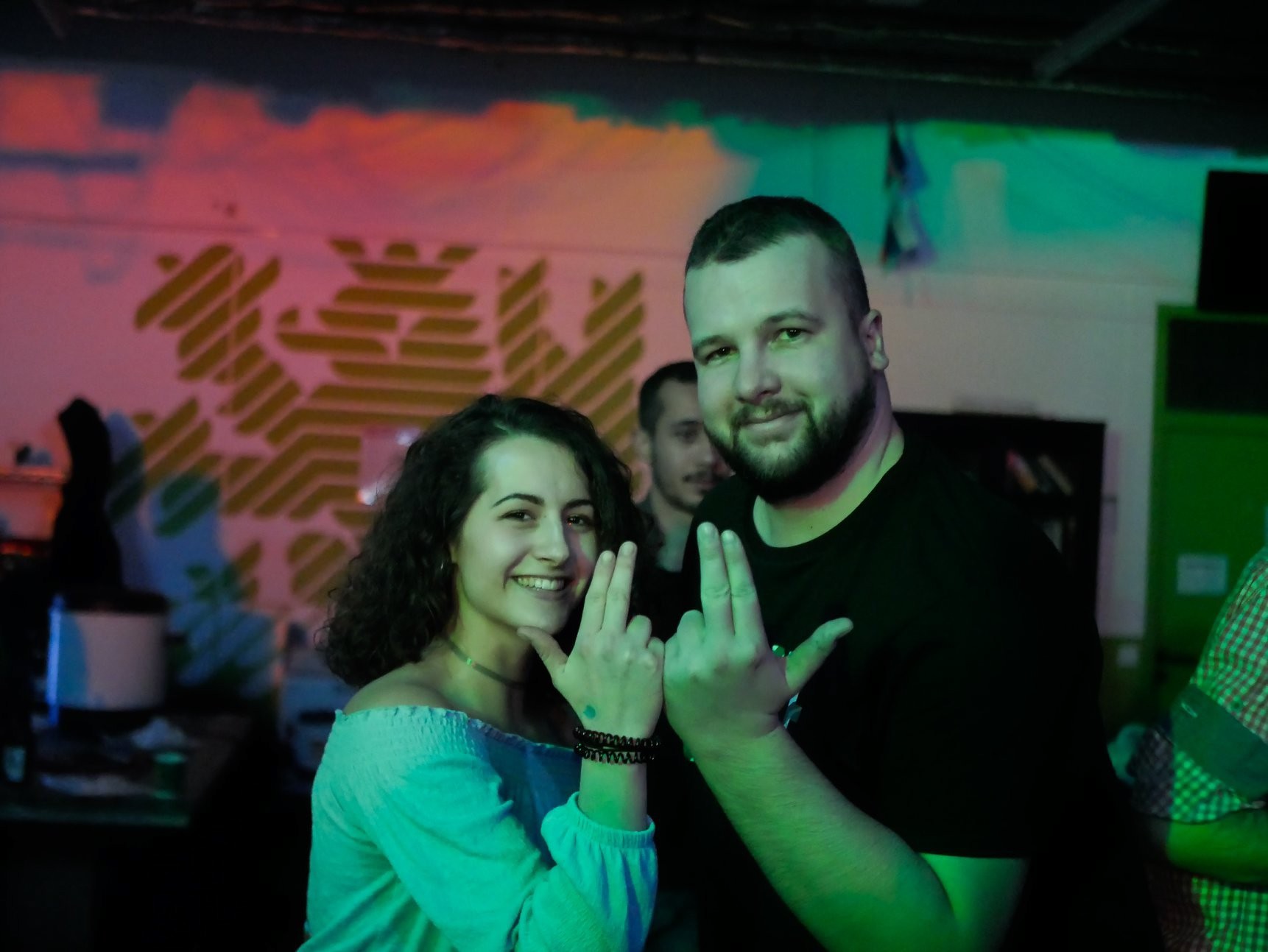 My Name is Marine Rosito, I am french and I did my Erasmus exchange when I was 20 years old. I studied Romanistik and BWL during the Winter Semester 2019/2020 from Oktober 2019 to March 2020. I think that the University of Wuppertal is really great. There was always a good mood during the classes and also in general when I met random people. The University is really big compared to mine and I was scared to get lost. However on our first day we had a visit from the Uni, explanation and really much help so that we felt good. I find the teacher nicer in Germany than in France. There is a less « hierarchical » relation between students and teachers, we can speak freely and have real discussions with them. I found that in general, german pedagogy is better than the one in France. The IST is in my opinion essential to an erasmus semester. They helped so much! The team was always there to answer our questions on whatsapp, facebook, etc.. they organised a lot of events/parties/etc. so that we could meet other Erasmus students and I truly believe that without them, my Erasmus experience would not have been good. The events they organised were all really cheap so that everybody could come. Every week there was the Stammtisch which was good for speaking with new people. I think that without their events and help, many students would be overwhelmed by the cultural difference, would not be able to adapt to this new country and would simply stay at home. Talking about culture differences, I didn't know that Germany and France could be so much different even though they are neighbours. This kinda made me sad at some moments because I was feeling like I didn't belong here and I didn't know how to adapt. However with the help of friends and the IST, it was better. I think Wuppertal is a really nice city. It's really convenient because the city is located close to other big cities like Cologne, Düsseldorf, Frankfurt, but also the Netherlands! We could also visit a lot of cities thanks to the Semester Ticket (it was expensive but absolutely worth it). The only bad point about Wuppertal is the weather: rain, rain, rain and more rain. From the memories I still think of often are parties and events. It was so much fun and we don't have parties like this in France. It was completely crazy! I will also never forget the people I met there who came from all around the world. It was also really cool to make Christmas dinner with food from every culture, I really enjoyed it! As far as my level of German is concerned, when I started my Erasmus I couldn't formulate a sentence in German. I was really bad. I spoke a lot of English during this Erasmus so I couldn't improve my German drastically. I did make some progress though! I could hold a conversation and understand so much better. What I would say to people who are thinking about a semester abroad at the University of Wuppertal is: just go for it. No really, I know it can be scary to go to a country you don't know and its language you may not speak well but you have to go for it! The IST and the university supervise perfectly the Erasmus students and we never feel left behind! It is an incredible experience: discovering new people, a new culture, a new way of life! You will keep unforgettable moments and believe me, the hardest thing is when the exchange is over and you have to say goodbye to these International people. But all these memories will remain in your heart forever <3
Celia
France // Winter term 2019-2020 // 21 years old (at time of exchange) // Studied Romance studies and Business
I am Célia. I'm 21 years old and I'm from France (Metz). Last year, I was in Wuppertal from 1 October 2019 to 28 February 2020. This experience was probably the best of my life! During the winter semester, I studied Romance Studies but also Marketing and Accounting at the Bergische Universität Wuppertal. The classes were very interesting. I didn't have any difficulties following the Romance Studies classes because they were often in French. I had more difficulty understanding Marketing or Accounting because they were all in German and the teachers used technical terms I didn't know. Nevertheless, I passed my exams without much difficulty. We were very well received in Wuppertal. The first day, my buddy came to greet me. He showed me around the hall of residence. I thought it was very nice of him to show me the flat. I lived in Max-Horkheimer Straße, which was cool because all the international students lived there. We all had a lot of fun together. We partied, ate and laughed all together. That atmosphere between us is one of my best memories. Another thing I really liked was the semester ticket. I got to discover wonderful cities, like Düsseldorf, Cologne or Bonn. The IST was great. They organised many events, from the first day to the last. One of my favourite things was the Icebreaker Games at the beginning, because I met all the international students. Some of them became friends that I still talk to today. I also really enjoyed the Quiz Nights, even though I never won anything....
In summary, I advise everyone to do Erasmus in Germany and especially in Wuppertal! Even though it's not the nicest city, we were very well received and didn't leave. The IST does everything to give us the best possible stay and I thank them from the bottom of my heart <3
Habibi Marina
France // 2019-2020 (one year) // 20 years old (at time of exchange) // Business & Economics
I always think about the good time I had with everyone during the Stammtisch! It was great knowing everyone, I was able to get to know lots of nice people. My Buddy was very cool and helpful, thanks to him I didn't feel lost! The university is quite big compared to my home university! The teachers were very nice and understanding. Wuppertal is a good city, I liked being there. I love the interculturality, and it is near big cities such as Düsseldorf or Köln. The IST team was one of a kind, au top ! They tried their best to enjoy ourselves and keep us busy with lots of activities and outings.
I loved the quizz night, it was great! Personally I think I was able to improve my German skills, however, not as much as I had planned because of the Covid-19 situation. For those who are still hesitating, please no no more hesitation!!! I am 100 percent sure you'll enjoy yourself 😉 The team is cool, the university, the city, literally EVERYTHING!!! Moreover you'll have a nice buddy there for you, answering your queries, help you in any ways possible
#ManuT'esLeMeilleur Go live your adventure 🙂
Lisa
France // 20 years old (at time of exchange)
Hello, Im Lisa, I was 20 last year when I was in Wuppertal and I come from France. Spending a semester in Wuppertal was such a great experience to me. It was the first time that I was living alone, and I learned a lot about myself and who I really am. The university there was awesome. The classes were interesting, the campus is huge because you have everything there, a cafeteria, a bar where you can eat, play, a room where parties are organized, a sport organisation that offers you the possibility of doing a variety of sports! I also learned a lot about German culture through meeting new people (that are very welcoming), the different events (carnival in cologne, big Christmas market). The city is very cocooning, there are a lots of shops, bars, night clubs, you can find everything. Concerning the erasmus experience, the IST was such a great association, they organized a lots of event for us to have fun, eat together, discover the city and the country. I've met amazing people (from all around the world) that I'm still in contact with. I had a lots of fun. Thank you
Alexandra Klimenko
Bulgaria // Summer term 2019 // 21 years old (at time of exchange) // Studied Financial Mathematics
My name is Alexandra Klimenko, I am 21 years old and I come from Bulgaria. I study Financial Mathematics at the University of Ruse in my hometown. I was an Erasmus student at Bergische Universität Wuppertal in the summer semester of 2019 and studied Introduction to Numerical Mathematics. At the Language and Teaching Institute, I deepened my knowledge of German, especially in the field of economics, and I learned Russian. The choice at the university sports was great and the courses were very affordable. It had always been my wish to visit Germany. I was happy to study specifically in Wuppertal. I really liked the city and the university. In Wuppertal, I liked the many trees and the nature of the "Bergische Land", which invite you to go for walks and hikes. I thought it was great that there were so many different places to study at the university. For example, you could use the study room on the top floor of the university library and enjoy the beautiful view of the city at the same time. One of the biggest advantages of the university was that students are allowed to travel all over North Rhine-Westphalia for free. I took advantage of this to see cities like Düsseldorf, Cologne, Bonn, Aachen, Dortmund and Essen and to visit sights like the castles Augustusburg and Falkenlust in Brühl. The IST team organised many events and excursions from the first days of my stay in Wuppertal. The IST team was very friendly and always helped me when I needed it. I have been learning German since the first grade, at the age of seven, and also passed a German language diploma with the language level C1. In Wuppertal, I practised German and English.
The Hochschulsozialwerk Wuppertal offers various student dormitories. I applied for a furnished single flat and got it. The most important thing was that the dorm was close to the university, the main train station and the city centre. The Schwebebahn is the most famous and unique sight in Wuppertal. The ride on it was a beautiful experience.
I am in love with Wuppertal and would recommend everyone to do a semester abroad at the Bergische Universität. Germany is a beautiful country where you have a lot to do and visit. I have met many friendly Germans who are always willing to help.
Nodoka Kobayashi
Japan // October 2019 to July 2020
I participated in an exchange program between Osaka Prefecture University and the University of Wuppertal for roughly 10 months from October 2019 to July 2020. Apart from the beautiful sound of the language, it was a fascination with advanced environmental policies and successful grassroot movements that motivated me to study in Germany.
The first six month I focused primarily on improving my German skills. During that time, I managed to increase my speaking level from the second lowest (A2) to the second highest (C1). Doing so enabled me to pursue my academic field of interest during my second semester by taking online classes in German about environmental management.
Even though the emerging global pandemic made me change my plans and return to Japan prematurely, it didn't seem to negatively impact my research so much. Despite the lockdown, I was still able to learn some basics about German environmental policies as well as to observe the overall approach of German people to deal with environmental issues in everyday life.
Of course, there is much more to being an exchange student than just the academic side of it. For me personally it was a multi-layered experience. The realization of how important the support of other people in your life during that difficult time is (emotional, financial or other) has left a profound feeling of gratitude towards them inside me. It wouldn't have been possible to follow my dreams and study abroad without the help of my family members and the staff of both Osaka and Wuppertal University. Even my new friends and especially my "buddy" from the International Student Team have helped me a great deal to settle down and start my new life in Wuppertal. Their encouragement and motivation made my life in Germany exciting and meaningful. So much that I have decided to enroll again in a German University. This time as a postgraduate student in the fall semester of 2021.
I am deeply grateful that I have been able to study in "one of the greenest major cities in Germany". The amount of natural surroundings that are integrated into the city is truly amazing. More importantly, I'd like to thank everyone who helped me wholeheartedly. It is no exaggeration to state that my time in Wuppertal became a major turning point in my life.