Hey guys,
let's go canoeing on the Wupper!
It's necessary to pay in advance!
We will meet on the 27th of May at 11:40 at the station Historische Stadthalle to go to a guided Tour of 2 hours on our beloved Wupper.
The tour will start here: https://goo.gl/maps/mbDx8PJwEjs
and end here https://goo.gl/maps/hd1UFCnMdF12, close to the Müngstener Brückenpark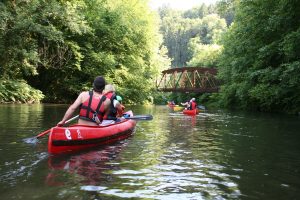 What to bring:
– wear clothes and shoes that can get wet and dirty
– bring fresh clothes and shoes for after the tour
– the tour will take place even if the weather is bad
– if the weather is good, we plan to have a picnic afterwards, so bring some food and drinks and maybe a towel
There will be a possibility to store your phone and purse safely and dry on the boat.
Bagpacks can be given to the guides, who will bring a car.
Meeting: 11:40 Historische Stadthalle
The bus leaves at 11:55.
We will arrive at 13:02 at Am Hofe and walk half an hour to the boats
The tour starts at 14:00
Afterwards picnic! 🙂
Your IST