***just around the corner at our lovely location – Odeon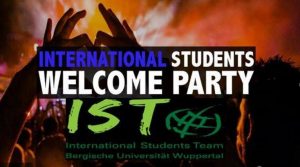 ***
Hey new Erasmus, Internationals, partypeople and friends!
It´s party time ????
The IST-Team says "Herzlich Willkommen" to all newcomers at our always beautiful sunny Wuppervalley!
So, what we gonna do to get to know better each other and to finalize the welcome week in a memorable night?
………….easy peasy!!………….
Let´s celebrate together the beginning of the summer semester with a big exclusive
INTERNATIONAL PARTY AT ODEON – STUDENTS DORMS BAR (groundfloor of Max Horkheimer Str. 14 – BUILDING 14)
………….On Saturday, 22/04/2017 — 10:00 p.m……………..
with the best international music !
all kind of genres like
Disco, Rock, Latin, Reggaeton, Charts, Techno, Dancehall etc etc etc
…aaaand with our Resident-DJ´s
Of course, the IST-Staff will sell some drinks for little money, but you can also bring your own drinks from home.
Sounds good, right?? Come on guys! Let´s make party together!
Your task is simple: Just save this date, invite your friends and let´s get crazy !!!
**Further informations will follow 🙂
Your I.S.T. ?